Market Perspectives – Fourth Quarter, 2019
CitizensTrust – A Division of Citizens Business Bank
2019 was a great year for investors. Nearly every major asset class posted solid, above-average gains during the year. Surely returns were boosted after the sharp declines across the globe in the fourth quarter of 2018. However, cheap valuations, accommodative central banks, and a reversal by the Federal Reserve in late 2018 set the stage for easy monetary policy, falling rates, rising stock prices, and rising bond prices for 2019.
Equity Markets
U.S. stocks led the global equity markets with the S&P 500 gaining 31% for the year. It was the best year for stocks since 2013 and the second largest calendar year gain in the last 20 years. The fourth quarter was strong as the S&P gained 9% in the last three months of the year and all major U.S. indices ended the year at, or near, all-time highs. The market was led by technology stocks with the S&P technology sector gaining 50% for the year, far out-pacing other sectors. The tech-heavy NASDAQ index gained 37%, making it the best-performing major index in the U.S.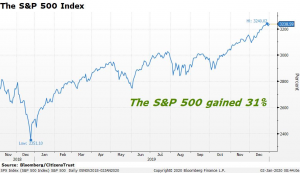 During the fourth quarter, mid and small-cap stocks rose significantly as well, up roughly 7% and 8% respectively. Mid-cap stocks, as measured by the S&P Mid-Cap ETF, were up 26% for the year. Small-cap stocks, as measured by the S&P Small-Cap ETF, were up 23%, lagging large-cap stocks. International Developed markets, as measured by the EFA ETF, were up 22% in 2019. Emerging markets, as measured by the EEM ETF, were very strong in the fourth quarter, gaining over 12%, and increasing their annual return to just over 18%. Globally, stocks were strong across the board, with the MSCI World Index up 26.6% in 2019.
Equity investors were primarily concerned with tariffs and a trade war with China and reflected this in the second half of the year by lowering expectations for any kind of resolution until after the election in 2020. The ensuing threat of increasing tariffs on December 15th appeared to get negotiations moving forward, and a "phase 1" deal avoided further increases and reduced some existing tariffs. Trade progress, strong GDP, improved jobs reports, rate cuts, and Brexit progress was plenty of fuel for equity markets to move higher in the quarter.
Interest Rates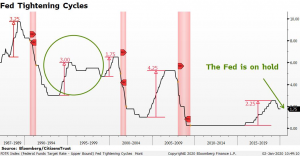 Interest rates fell throughout 2019. The Federal Reserve cut interest rates three times in 2019, which was a quick reversal of policy after hiking rates nine times, the last of which occurred in December of 2018. The Fed's "insurance cut" was demanded by the market and is expected to soften the negative impact that trade disputes and a slowdown in global economic growth are having on the manufacturing sector. Although the Fed has room to continue to cut further in 2020, it is likely that they would rather sit this year out and remain on hold.
The Fed is hoping that its "insurance" rate cuts in July, September, and October of last year will manufacture a soft landing for economic growth in 2020, much like they did in the mid 90's. The cuts were made in response to a slowdown in U.S. manufacturing and the relatively high U.S. rates in comparison with the rest of the world. The question still remains as to whether they moved quickly enough. As recently as a month ago, economists predicted at least one additional cut but some positive economic measures in the third quarter removed those expectations.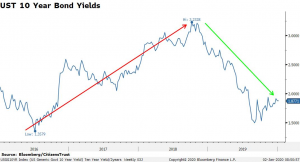 The decline in rates throughout 2019 came after a two-year rise in the ten-year yield, which peaked in late 2018. It has been a volatile period for interest rates, caused by the gyrations in Fed policy. It is likely that the coming quarters will be more subdued, as the Fed generally likes to stay out of the headlines during Presidential election years unless their hand is forced. Chairman Powell has made it clear in recent statements that no changes to interest rates are expected at this time and signaled a change in sentiment toward inflation. He specifically stated he would have to see a move in inflation "that's persistent and that's significant" before raising rates again. He expanded that he would prefer to let inflation levels rise and hold above the Fed's 2% target before considering rate hikes again. It's important to note that this is a significant change in Fed thinking that should not be overlooked. The Fed's preferred measure of inflation is core PCE (Personal Consumption Expenditures) and they currently project it to increase 1.9% in 2020, which is below their target.
The Economy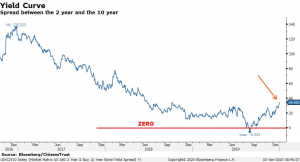 Perhaps the most important chart from the fourth quarter is the U.S. yield curve. In early 2019, the curve was steepening and confident of economic prospects. By the end of last summer, it briefly inverted amongst heightened economic worries, trade disputes, and a Fed that wasn't moving fast enough. After some progress and three rate cuts, the curve ended the year at its steepest levels since the middle of 2018. If there were a single confirming vote that the Fed had moved fast enough and that a "hard landing" was averted, this would be it.
U.S. GDP growth was stronger than expected in the third quarter, reported at 2.1%, well above expectations of 1.5%. Estimates for fourth quarter GDP are currently 1.6%, and there could be the potential for further upside after solid job reports in October and November. The Federal Reserve currently expects annual GDP growth to be 2% in 2020, roughly in line with 2019. The manufacturing sector continues to stagnate under tariff uncertainty and a slow global economy. However, the consumer and housing sectors are supportive of economic growth. Consumer spending is strong, and in response to lower mortgage rates, both New Home Sales and Existing Home Sales began to show year-over-year gains in recent months for the first time in over a year. This trend should continue into the first half of 2020.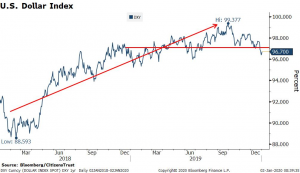 The U.S. economy remains strong relative to other developed nations, and the recent trend in the U.S. dollar could remove the strong dollar pressure that has been in place for the past two years.
As the differential between U.S. rates and the rest of the world have narrowed and European economies seemed to have bottomed, the upward pressure on the dollar has abated and it has started to weaken relative to other currencies. It's a fairly recent trend, but this could remove a headwind for S&P 500 revenue and earnings growth as we enter the New Year.
The Quarter Ahead
Policy and politics will be in transition this quarter. Tariffs and trade wars could fade from being the dominant market concerns if the "phase 1" trade deal with China is signed in January, which is the expectation at this point. The USMCA trade agreement with Canada and Mexico has passed the house and should be put to a vote in the Senate after a year of delays. This would also remove trade uncertainty. Britain took a significant step in December toward leaving the EU, and that event could lead to a separate trade agreement between the U.S. and the U.K. On the political front, it's a presidential election year and primary voting begins in February, followed by "Super Tuesday" in early March. These results will shed light as to who the Democratic nominee for president will be. Politics and potential policy change will dominate the headlines in this presidential election year.
The interest rate environment is best described as stable at this point, with the Fed on hold and willing to let inflation increase without a quick response. A less volatile fixed income market, in comparison to the past few years, would be a welcome development by bond investors. On the other hand, equity markets are likely to be more volatile than they were in 2019. The average drawdown in a calendar year for the S&P is around 14% and the sharpest sell-off we experienced last year was just over 6%. After such a strong quarter and year, expect a bumpier ride from stocks in the New Year. A strong consumer, low U.S. unemployment, and a friendly credit environment should support a strong economy this year. Corporate profits are strong and are expected to set a new record in 2020. S&P 500 earnings growth is estimated to be 9.6% this year after no growth in 2019. This is driven by revenue growth estimates of 6% for S&P companies, also a quicker pace than last year.
We look forward to serving you and appreciate the trust you have placed in us. Please reach out to your CitizensTrust representative with any question you may have.
Learn more about CitizensTrust
---
Content provided by:
R. Daniel Banis, Executive Vice President, Head of CitizensTrust
Donald Evenson, Senior Vice President, Chief Investment Officer
CitizensTrust is a division of Citizens Business Bank. Trust and Wealth Management are provided by CitizensTrust Wealth Management. The information provided is an opinion on economic outlook and not investment advice. The information is not offered with a product or service. This information is not intended to be a substitute for specific tax, legal, or investment planning advice. We suggest that you discuss your specific questions with your qualified tax, legal or investment advisor.
Not FDIC Insured • Not Bank Guaranteed • May Lose Value •
Not Insured By Any Government Agency •
Not a Bank Deposit or Obligation of the Bank

Visit or contact us today.