Access. Anytime. Control. Anywhere.
Manage your Debit card on your terms.
CardValet® gives you access anytime to more controls over your Debit card activity from anywhere. If you want to establish spending options on how, when and where your card is used or want to monitor transactions, alerts and balances, CardValet lets you decide.
Security
Turn your cards on or off, in an instant, for any reason
Business
Ensure spending policy compliance
Controls
Manage transactions by merchant codes, locations, and set spending thresholds
Flexibility
Easily set, customize, and modify real-time alerts to keep you informed of your Debit card's activity
Learn more by viewing our CardValet demo video.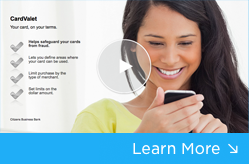 Contact us today for more information. 888.228.2265
CardValet is a registered trademark of Fiserv, Inc. or its affiliates.
Data & MSG rates from your mobile carrier may apply.
Visit or contact us today.